USRT has promoted dual nozzle mounting ever since inventing the setup over ten years ago. As we've made common knowledge, this has been the simplest way to achieve both intake cooling and significant octane boost. Both contribute to an engine's ability to make more horsepower and torque even in hot summer weather or after prolonged action at the race track or rally stages.
The spray quantity emitted just after the intercooler provides a maximum distance path ensuring full evaporation before the combustion chamber. More evaporation guarantees more cooling and for each 10degF reduction in intake temperature, an engine will produce about 3% more power and torque.
Throttle body and direct port-mounted nozzles work exactly the same way but in reverse. Less distance traveled = less evaporation = more droplets ready to turn to steam INSIDE the combustion chambers. This reduction in combustion temperature boosts the air/fuel charge's octane rating in a huge and very beneficial way. The main difference in spraying after the throttle and at the ports is specific to the evenness of spray distribution. The tiny spray droplets have mass and inertia tends to carry these particles to the cylinders farther away from the throttle. When the post-throttle nozzle is fairly small (e.g. 60cc or 100cc), the difference is not so significant. However, when protecting the engine from piston-melting detonation with larger nozzles (i.e. 175cc+), perfect distribution among cylinders becomes critical. Without it, tuners are frustrated by too little protection "here" and a combustion-quenching oversaturation "there". The only safe response is to dial back the boost/spark timing to satisfy the most vulnerable chamber.
Direct port is the clear solution when your high-output engine is equipped with a big turbo. Those on the ragged edge with overboosted K03/4 turbos will see helpful gains, too. Because the mist is emitted so close to the engine, our mechanical Pressure Gauge is supplied so as to dial in the exact amount required. -not more and not less.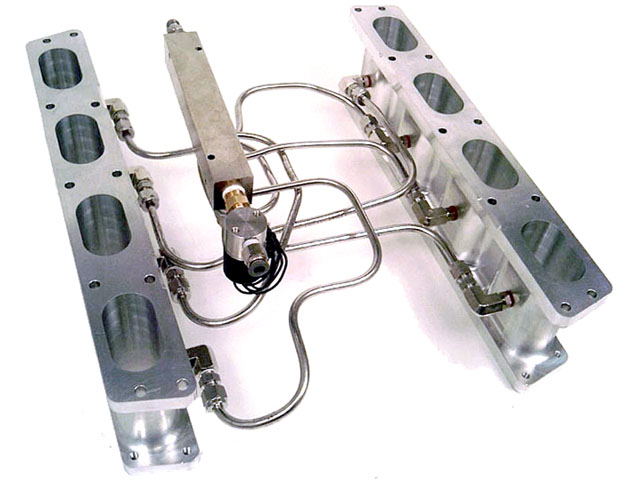 Nozzle sizing advice:
We have partnered with champion race driver and engineer "Mad" Max Clesca to roll out this direct-port nozzle system. The key to success is extremely fine atomization with miminal flow rate. This finally makes direct port injection feasible in our small displacement engines. No other company offers this solution which is now specific to USRT.
Please contact us for help to coordinate a post-intecooler nozzle with the direct port system. The stakes are high when pushing this hard. Trial and error guesswork with flow rates is unwise when our our tech experts can help you get it right from the very beginning.